Discussion Starter
·
#1
·
WONDERFUL PRE-WAR STYLE DOUBLE-BREASTED BELTED OVERCOAT FROM BROOKS BROTHERS.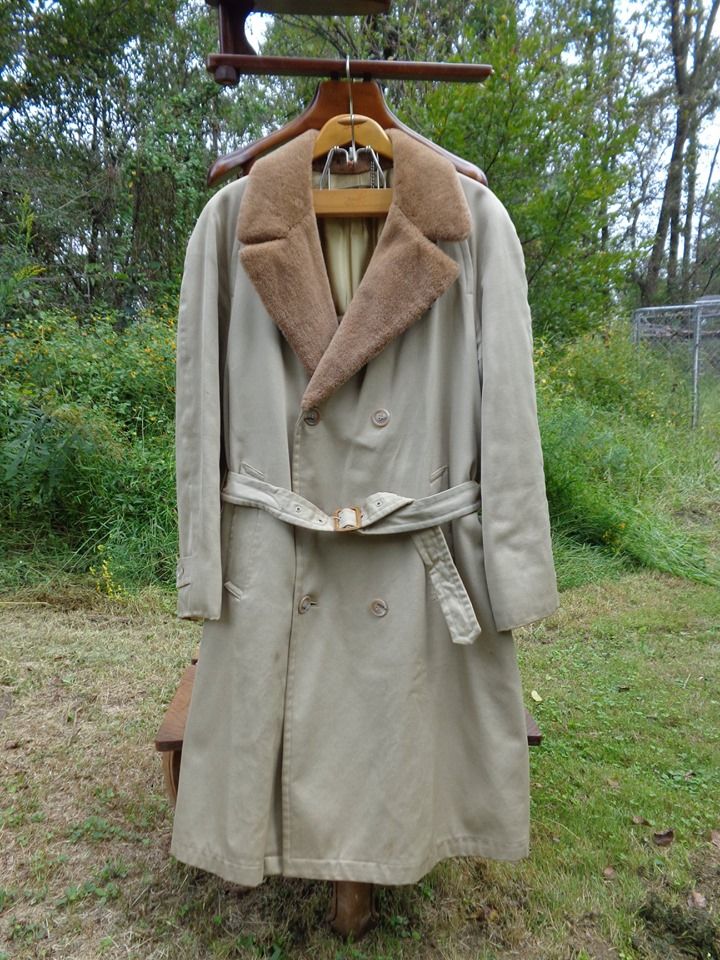 Cut from wool gabardine twill, and lined with faux-fur, this wouldn't look out of place on the private dick's wealthy employer in a 1930s film noir!
Tagged 44. Measurements:
Chest: 24
Sleeve: c. 36 (measured like a shirt)
Shoulder: N/A as raglan sleeves.
Length (BOC): 42
This is absolutely wonderful! Likely dating from the 1980s when the revival of 1930s styles (by Ralph Lauren, among others) was in full swing this wonderful coat wouldn't look out of placed casually tossed across the front seat of a Stutz Bearcat at the Yale-Harvard game of '36.... or draped over the shoulders of a Los Angeles producer as he hired Marlowe to tail his wife in a 1930's film noir.
Cut from durable and traditional wool gabardine twill in a classic raincoat tan this is fully lined; 3/4 in faux fur (with an oversized faux fur collar) with the remaining 1/4 lining in the shoulders being harvest gold satin. The coat is cut in the double-breasted style and features raglan sleeves. The sleeves end in ornamental cuffs with faux adjusters, and their linings are quilted for extra warmth.
There are two deep slash handwarmer pockets on the front of the coat; these are lined with sturdy cotton duck. The rear of the coat features a center hook vent. The collar can be secured upright by the fully functional throat latch. Many of the seams are double-stitched for durability and style.
In the interior the coat has a large map pocket on the lower left, as well as a recessed wallet pocket on the seam; this is deep and lined in duck.
The coat is belted; the buckle is leather-covered metal.
This wonderful coat is in overall Very Good condition. It has a few minor blemishes on the shell; two small black marks on the left sleeve, a smuge near the hem, and some small black marks on the underside of the collar which won't be seen when worn. There is a minor watermark on the lining and the metal locker loop chain is off on one side. There is also a very minor repair to the exterior seam of the left-hand collar; this won't be found unless you're looking for it! Plus, these just make the coat have more character, and add to its noir feel! This could benefit from a dry-clean and a press.
Given its coolness and condition this coat is a bargain at just $65, or offer, boxed, shipped, and insured in the USA.