Discussion Starter
·
#1
·
DISCLAIMER: All the photos below are graciously lifted from the WAYWT thread, and are direct links to the poster's original image. If anyone has the slightest objection to this, let me know and I will remove them.
I brought a couple jackets (A couple tweeds and a camelhair) in with me today with the intention of taking them for alterations. All the jackets could use (
I thought
) about a half an inch more sleeve, especially on my longer arm. This has been enough of any issue for me that as stated above, I finally decided to take them in once and for all.
Then I looked at the WAYWT thread this morning and again noticed something curious: There is little or no consistency
between
posters on sleeve length, and even more, if memory serves, there is sometimes no consistency on a member's
own
clothes. And yet, over here, people are rarely ever questioned about "why don't you show a little cuff?" or the inverse "Your jacket sleeves are too short!". A more holistic approach is taken.
So before I bit the bullet and dropped them off, I tried them each on again and wore them for a bit, an lo and behold I just can't bring myself to do it. Do I really need to show 1/4 inch rather than 3/4 "most times"? I am often moving anyway, isn't that 3/4" going to become 0" sometimes and 1 1/4" others? I mean, wearing this camel hair at my desk right now, there is 3/4" inch showing. Big deal!
Anyway, I submit to you the following photos, all full shots to demonstrate jacket sleeves with arms at the sides. Please note the various lengths. Are any of these "poor displays"? (My answer is no.)
PS. My favorite "photographic autobiographer of WAYWT Trad" wears his jacket sleeves too short. Do you think
I'm
going to tell him? Ha! How could I, everything is perfect!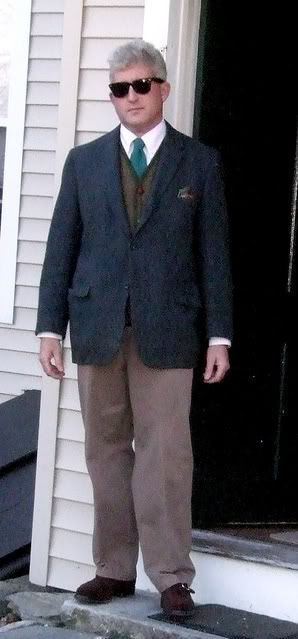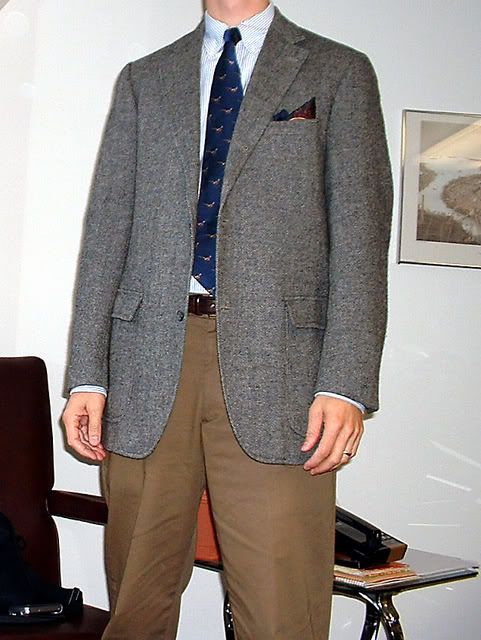 https://i147.photobucket.com/albums/r312/paperclip2006/10-25-07003_edited.jpg