It's always difficult to lose a loved one, and every culture and family has a different way of grieving that loss. A newer way of doing so, the Celebration of Life, is gaining in popularity.
This article offers some outfit considerations so you can be both stylish and respectful when deciding to wear to a celebration of life.
For information about what to wear to a funeral viewing, please
see this article
.
What Is A Celebration Of Life?
A 'celebration of life' is different from traditional funeral or wake. Western funerals typically follow some variation of the following: a visitation/viewing, a funeral service in a funeral home or house of worship, and a committal service at the place of interment.
A celebration of life is more broadly defined, but it is primarily concerned with telling the story of the deceased. It isn't intended to be a somber occasion. Rather, you're remembering the individual and what made them unique.
The event may or may not have a religious context, and often takes places a few weeks or a few months after the individual's passing.
It's been suggested gathers watch the deceased's favorite film, play their favorite games, or a share a meal of their favorite foods.
We also had a lively discussion over in our
online community
. But, for our purposes here, let's break it down into the following broad guidelines.
General Guidelines
Look at the weather
Dress for the location
Consider the cultural norms
Take note of the deceased' personal style, as well as that of their friends
Acknowledge the wishes of the family
Remember that less is more
What's the Weather?
Weather is a major factor in dressing for any event, and this is certainly the case here.
In the fall and winter, and in a more formal celebration of life, we'd suggest a tweed jacket, some flannel trousers, and leather derby shoes. You may consider layering with a merino wool or cashmere sweater in navy, burgundy, or bottle green.
For a more casual gathering, skip the flannels and tweed and instead opt for some moleskin trousers. If there's no snow on the ground, suede can be a nice addition on your feet. A sweatshirt and some denim are better-suited for an evening at home.
In the spring/summer, consider t lighter fabrics like- namely linen and loose-weave cotton.
For a more formal situation, consider a linen blazer in a medium to light navy and some cream linen trousers.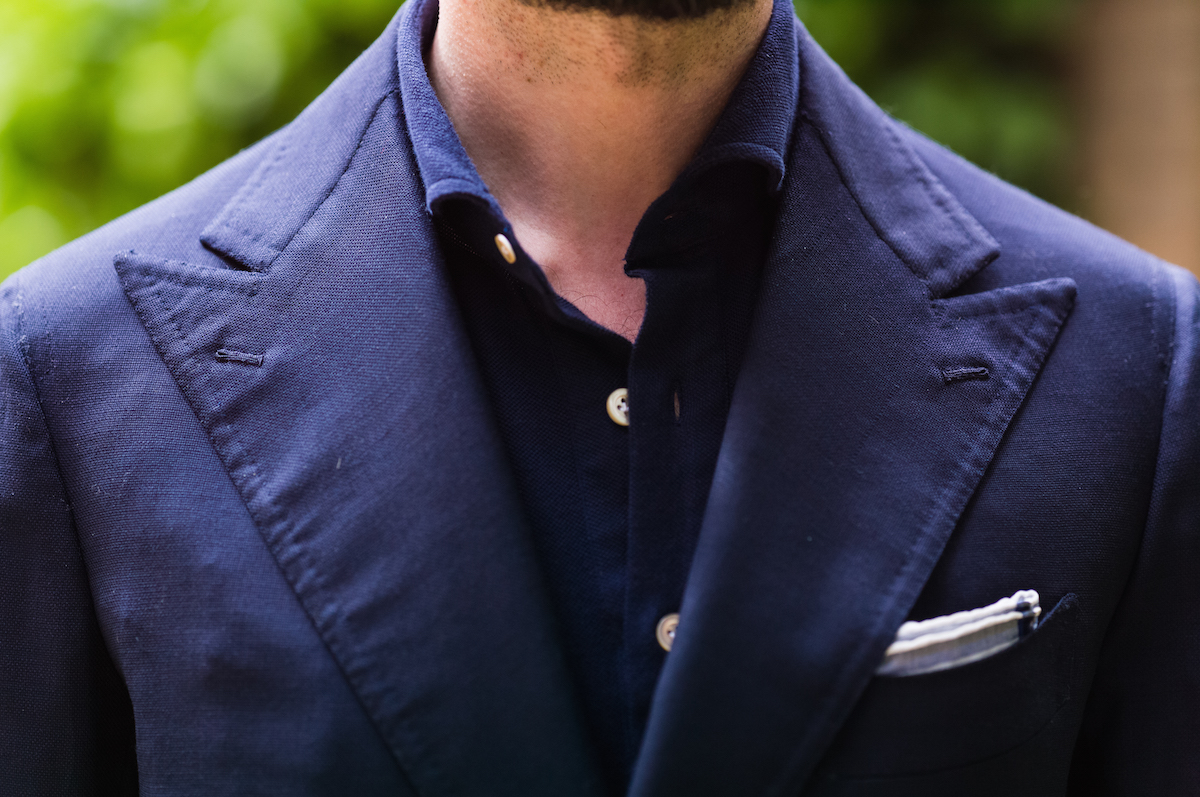 A hopsack blazer is a great summer piece. Image Credit:
Permanent Style
If the natural wrinkles don't appeal to you, hopsack is a great option as well. Consider them in a navy blazer.
For a relaxed setting, go with a short-sleeved polo shirt and some lightweight chinos. Shorts, no matter their inseam, and t-shirts of any kind are not recommended.
Dress for the location
The setting is as important as the weather. Is the celebration in the back room of a restaurant or banquet hall? If so, choose according.
Here, again consider a blazer and trousers. You'd be equally at home in a sweater with a collared shirt underneath.
When layering a sweater, it's advisable to choose a thinner fabric to avoid unnecessary bulk in your outfit.
For a casual setting like a gathering in in someone's home, you can go with chinos and an Oxford cloth button-down in the color of your choice.
A light blue OCBD is a good choice for a Celebration of Life. Image credit:
Simpler Man
Light blue is the most versatile, but light greens, purples, and even a pale pink will contribute to the relaxed atmosphere. Considering the deceased' associates will also help in deciding your outfit here.
Consider Cultural Norms
Many families have certain customs they'll observe, and it's important to be respect of that. Style goes far beyond the clothes you wear.
If you're attending a Jewish celebration of life, for example, you may considering wearing a yarmulke. However, only do so if it is offered.
Personal Style and Hobbies
The deceased may have been retired for years, but it's also a good idea to consider their career and their friends.
Did they work in a professional office which recommended coat and tie, or did they work with their hands in a in a field that required traditional blue-collar wear?
Did they like to dress in suits and bench-made shoes? Or, did they prefer some Levi's, a plaid button up, and work boots?
What did they like to do for fun? Did they prefer golfing, fishing, or hiking on the weekends?
A sports jacket with bright blue overlay
For the suit-and-tie crowd, you may consider a subtle windowpane sports jacket and trousers. You can likely skip the tie here.
For the ultra-relaxed gathering, a button-down and some chinos in the color palette we identified earlier are great options.
The Wishes of The Family
Of course, the family may have very different ideas. This is a celebration, after all! If they suggest a theme, go for it.
A 'beach' theme lends well to
camp-collar
shirts or
guayaberas
.
Tommy Bahama
makes beautiful camp shirts
Do be mindful of the patterns, though, as some of them can get quite loud.
If they're remembering a golfer, feel free to wear a golf polo shirt with the emblem of their (or yours) favorite country club.
Less is More
The family comes first at this difficult time, but there are ways to be stylish at at even like this.
To sum up, as with most parts of menswear, less is very often more, and being stylish is much greater than the clothes one wears.
Put on something that feels comfortable and feel free to be expressive, but spend time with loved ones who need it most.
That speaks louder than any outfit ever could.
What to wear to a Celebration of Life discussion
[alert type="success" dismiss="no"]Please come join us in the Dressing for a Celebration of Life discussion in
our online community
![/alert]