Discussion Starter
·
#1
·
Before reading this, please refer to
this thread
about shoes, which I would like to talk about but not to hijack.
The OP posted a picture: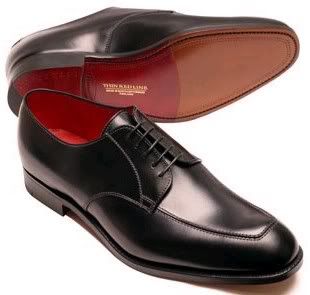 ...of a pair of shoes that, in my current state of knowledge about shoes, can be described as a pair of men's, black, Oxford, Derby's with an apron front.
The first comment was:
ToryBoy said:

Although I prefer oxfords with a suit, I do have a pair of derby's in my 4-day rotation.
So clearly one of us is confused about the terms Oxford and Derby. I think they can go together but ToryBoy sees them as being mutually exclusive.
Later on,
Leather Man said:

...Derby is less formal than an Oxford...
Leather Man seems to agree with ToryBoy, a Derby is not an Oxford, they are mutually exclusively different shoes.
My understanding is that an Oxford is a shoe cut below the ankle, whereas Derby refers not to the cut of the shoe but to its style of lacing. So to me, both a Derby and a Balmoral are (or at least can be) Oxfords but to both ToryBoy and Leather Man the term Oxford seems to mean something else.
Clarification would be appreciated.