Discussion Starter
·
#1
·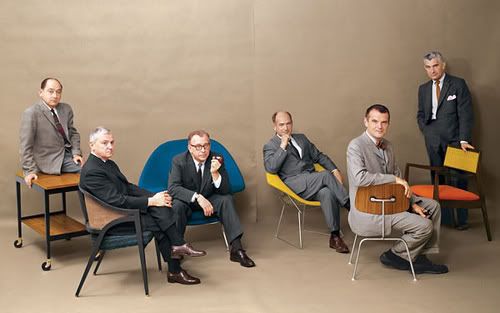 I have been inspired by images like these since before going to college. In a sense I've always considered myself a modernist, but have only recently come to terms with what this means to me. I've found it to mean timelessness.
Now the images of some of my favorite modern designers are particularly relevant here in a forum for men's dress, but I think the bigger point is that these men created furniture that continues to endure and often finds itself in very traditional company. In a way, their "modern" designs we so carefully considered and thoughtfully created that they entered into a sort of Permanent Class of things.
When I was in school studying design, we were taught about the burden freighted on those who chose to create things. We were taught that to create something in the first place was almost a sin of pride given the vast store of "things" already in existence. And knowing this, we were taught to design carefully and purposefully so that anything we might make would have a long and enduring usefulness. This required a high quality of construction, a flexibility of use, and a narrative component that would make it interesting to use.
What I've found is that traditional items are really the most modern. They belong to this Permanent Class that seem to escape attachment to time and place. Whether it's an Eames Lounge Chair or a gray flannel suit, these items, whenever they were created, have the ability to look contemporary long into the future when more stylized objects come to define their time more than their use or purpose.
I'm considered a bit of an odd duck where I work (Bang & Olufsen) because of my traditional dress, but I think it's in perfect keeping with our company. Our products are built to last and you can trace design cues back decades to see a purposeful evolution. Our products are lucky to have 2 or more owners over their life-span and are single handedly supporting a dying breed of repair facilities all over the world.
I guess the short version of this story is that there is such a thing as misguided creativity! Has anyone ever regretted being photographed in black tie? What about a Jerry Garcia cummerbund & tie?
I think our little cultural corner of the web and its vibrant second hand trading mechanism says something about the "design" of what we wear and how modern we really are. In 20 years we'll still be in fashion and that has to be as modern as it gets!
For further illustration, I'll include a few more designers. Take a guess whose designs will still be around 100 years from now!