Life Magazine gave extensive coverage of the NASA space program over the years and the publicity shots in the archive are a great source for looking at the styles of that era. Obviously, there is some artifice behind all of this, but NASA was trying to project (using real people) what might have been viewed as an average American look.
This shot of the Mercury 7 from 1959, I think says a lot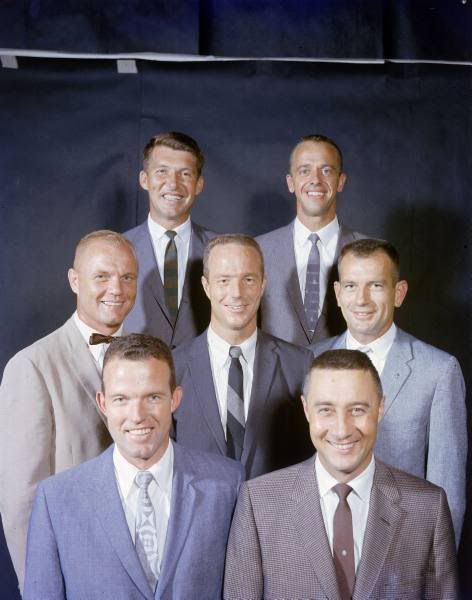 All the suits are thin lapelled, single breasted and natural shouldered. The color variation seems a lot wider than what we see today. Only Scott Carpenter's navy would be a conservative business dress color today and Gus Grissom's brick-brown houndstooth is almost pimp. Most of all, I'd like to get a suit in Sky blue sack like Gordon Cooper.
Ties are narrow, with muted colors but wild patterns. Note, the lack of visible pocket squares (though Glenn might be the most likely to square and he is not visible).
For the Forum Footwear Lovers
Apparently, argyles were pretty popular.