Discussion Starter
·
#1
·
Hi gentlemen,
My head's girth is 54cm (or 21.26 inch) and the distance between my pupils is 63mm (or 2.48 inch) and I'd like to buy a pair of sunglasses online. That's because I'd like to buy a pair of Serengeti sunglasses and the models I like best are not in the shops of my zone.
The only model I tried that fits my small head quite good is Merano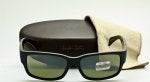 Base Curve: 6
Lens Size: 56 x 36 x 59mm, DBL 15mm (so the total length is 56*2+15 = 127mm = 5")
Temple Length: 135mm
My problem is I hate plastic frames because I MUST adjust arms and nose pads else every pair of sunglasses/eyeglasses fit me uncomfortably and oblique and that's not possible with the plastic ones. Due to that I'd want to buy a metal frame one. I only tried Dante
Base Curve: 8
Lens Size: 63 x 39 x 65mm, DBL 16mm (so the total lenght is 63*2+16 = 142mm = 5,6")
Temple Length: 130mm
and they fit my head a little larger than the above girl's so they look like a "visor" on me.
I do love serengeti "como" and "granada" but como is bigger than dante (total length 144mm, Base Curve 8)
and the granada
is at middle way between merano and dante (total length 136mm, Base Curve 8).
I know the fit is subjective and I know it's fundamental to try sunglasses (especially for the different base curves) but I'd want to ask you some suggestions about Serengetis, in particular what models you've tried/worn and how they fit to you based on your head size.
At first I considered Maui Jims too because they're top quality sunglasses as well but EVERY model tried was huge for me! Persols are not my choice because of plastic frames. Any other top quality lenses sunglasses to try or consider (preferably not involved to / owned by luxottica)?
Thanks in advance and stay stylish