Hello All!
I'd like to survey your opinion on the 1) style and 2) functionality on the two following types of side adjuster buckles. The first one is "Type 1"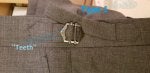 , which are used by my tailor at William Yu Expert Tailors in Hong Kong. This is the type that was used on my first suit made there. The second one is "Type 2"
, which I saw in pictures online and found quite handsome, hence sourced these myself and brought to my tailor to use on my second suit. Today, during my first baste fitting for my second suit, my tailor (not the sales, but the tailor himself) told me that these (Type 2) are lower in quality, and will slip more easily. He said that on the other hand, "Type 1" is less likely to slip due to the "teeth" as illustrated. Furthermore, he personally associates the use of the "Type 2" buckle with cheaper tailoring.
Now, I have no experience with the "Type 2" buckle, but the "Type 1" functions well and does not slip. After what he told me, I did test the "Type 2" buckle by putting the strip of fabric of my first suit trousers and pulled on the fabric to test for any slippage, but wasn't able to make it slip from tucking it with considerable strength - although wearing it over the course of a day might yield different results?
Questions
1) Anyone with experience with the "Type 2" buckle or both that can comment on the functionality of either or both buckles, and how they compare? Is slippage of the fabric on the "Type 2" buckle, perhaps over the course of the day, a concern?
2) I'd love to hear your opinion on the style of either or both of the buckles.
3) Do you think the "Type 2" buckle's shiny silver color is too gaudy (for a dark blue pinhead tropical/high twist wool business suit)? The buckle is not as bright/shiny as the picture - it looks almost like chrome in the photo, but it's just regular reflective silver.
Thank you in advance for sharing your knowledge & opinion!!