Discussion Starter
·
#1
·
With no disrespect to our American cousins, reading about American shoe brands such as Florsheim, Alden and AE etc has been interesting and I have learned a lot about shoes; discovering that some grown men need to be told how to polish their shoes was also an eye-opener for me, but I would like to have a discussion about shoes available in England.
Having convinced myself that it is perfectly acceptable to spend more on a pair of shoes than I spend on my annual holiday, I am not about to buy them without being able to try them on first, so that means they do not have to be an English brand (though that would be nice) but they do have to be available from a store in England - I live in Hampshire so the further south the better.
I am also cynical of the idea that paying more necessarily means you get better quality; obviously you have to pay more to get better, but paying more doesn't guarantee that you get better. So I really need some advice on the quality of what's available.
My absolute top price is £160.
What I am looking for is an Oxford - which regular readers will know is a shoe cut lower than the ankle bone; so no boots please. I am after a business/dress/formal shoe so laceups only - I can't imagine wearing slip-on shoes with a suit.
I have a high instep so do not wear Balmorals and much prefer Derby's, like this: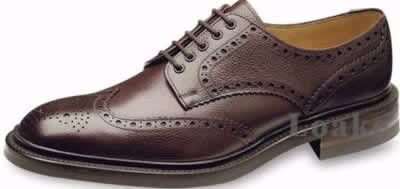 Loake - Badminton - £149.95
I like wingtips, but also a plain front, like this: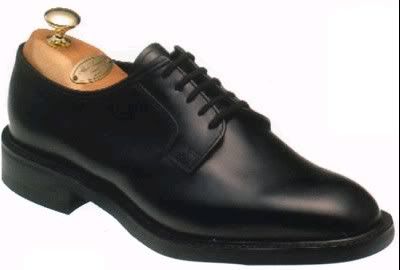 Alfred Sargent - Wells - £160.99
- which I believe is called a Gibson, and I also like toecaps like this: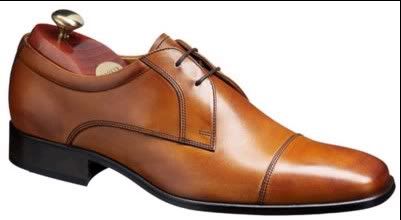 Barker - Heywood - £134.95
...but only if the shoe is not black. Toecaps like that on black shoes are too military for my taste.
I'm relaxed about colour; black, burgundy, brown, tan; I have suits that will go with any of these but prefer not to mix colours for the time being - although a pair of spectators is a definite for the future when I get my seersucker suit.
My top three shoes at the moment are:
Loake Royal Brogue £116.99
Grenson Archie - £145.99 a "big punch" brogue in a colour they call Burnt Pine.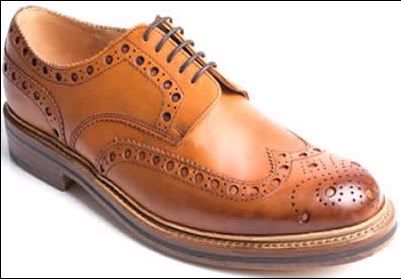 Barker Haven - £159.95 though probably prefer the black
I have done some research and found some names with which to kick off the discussion, which I have ranked in what I think is an approximate order of quality. The question then is, are these brands in (approximately) the correct order at my price range, and is there anyone else you think I might like to consider or special offers you know of that might be relevant? (I have seen the current offer on Alfred Sargent but would prefer not to have that waxy finish on a pair of business/dress shoes).
Grenson (mostly out of my price range, but lovely shoes)
Crockett & Jones (pricey but mostly not to my taste)
Barker
Tricker
Alfred Sargent
Loake
Sanders
Mephisto (these look over priced to me)
Although I have listed Loake almost at the bottom for quality they probably have more shoes I like the look of than any of these other names.
Many thanks,