Discussion Starter
·
#1
·
A quick guide on the difference between F and G fitting shoes. This is a hotly debated topic and hopefully this write up on our journal will help a few of you decide what to go for. It's a universal guide too so it should help with sizing when buying from most handmade shoe brands.
Feel free to ask any further questions here!
Link to the original
blog
.
You don't have to feel the pinch with wide-fitting shoes
In a perfect world, we would all have feet that fit a standard shoe and a standard width…but Herring is fully aware feet come in all shapes and sizes.
A standard shoe width in the UK is called an F fitting. This is determined by the lasts shoe manufacturers use to make their product. Previously made from hardwood or cast iron, lasts are now made from plastic and take the form of a foot. This allows manufacturers to mould the leather around the last to ensure the shoe grips the foot in the right way.
For most people, a standard F width is perfectly comfortable, but people with wider or flatter feet may feel the pinch. One of the many wonderful things about our lasted shoes is the flexibility we have to offer a slightly wider last so that we can accommodate these variations without noticeably changing the aesthetic of the shoe.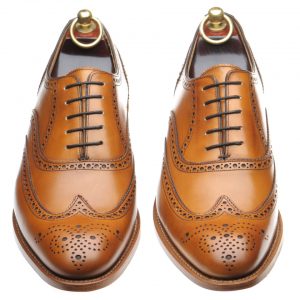 (
Can you guess which is the G fitting?)
The standard UK designation for a wider fit is G. G fits are ever so slightly wider than an F fit. It does not represent a great difference in millimetres, but for the customer, it gives them a choice between a shoe that is just that little bit tight and a shoe that is actually very comfortable.
Herring understands this and we offer both medium/standard and wide fittings for our most popular styles, such as our
Carnaby brogues
and
Mayfair Oxfords
, so our customers can still have the shoe they want but will enjoy a little more wiggle room.
Wider fittings also give customers flexibility of choice. For instance, if your favourite shoe is not available in your usual medium fitting size, you could probably get away with a half size smaller in a wider fitting.
It is important to point out however that different countries have different measurements for shoe fittings. In the US, an F/standard/medium fitting for men's shoes would be a D, and a G/wide would be an EE. With the letters being different, confusion should be minimal, but it is always best to check which size scheme your footwear outlet is using to avoid getting the wrong shoes!
Herring is proud to offer a decent range of wide fitting shoes. If you are unsure of what styles are available, please go to the
Herring section of our website, filtered for G fits
.
Let us know what you think!